For those of you that don't know, I am a part-time poker dealer in NYC. I run all kinds of games ranging from your company Christmas party -- to underground high stakes Wall Street games -- to your run of the mill casino themed bar mizvah.
My agent(yeah, some part-time poker dealers have agents) called me yesterday and told me that a client is looking for a poker dealer for a photo shoot. She asked if I was interested.
Hell yeah. What a stupid question.
Normally, as a poker dealer I am contracted to be paid "x" amount of dollars per hour based solely on my poker dealing skills (combined with the likelihood that I will actually show up to the job). It seems reasonable to me that I could demand that my standard going rate be multiplied several times for the use of my "image and likeness" in this commercial publication.
My agent asked that I e-mail her a couple of appropriate photos that she could forward to the client for consideration. I told her that that wouldn't be a problem and that the photos where on their way.
I began looking through the depths of hell on my computer for appropriate photos. I soon realized that I didn't have one single picture of myself that accurately represents what I look like now.
Problem?
Solution.
I enlisted my girlfriend who has an amazing amateur eye for what looks good on film.
I sat down in a chair in my apartment with a deck of cards and a couple stacks of chips, and told her to start snapping while I fooled around with my tools.
Thanks to the mirror (and Caroline's spooky-good photography skills), this picture catches me tracking the Ace of Spades to the middle of the deck and cutting it directly to the bottom with one hand.
(Click to enlarge, seriously.)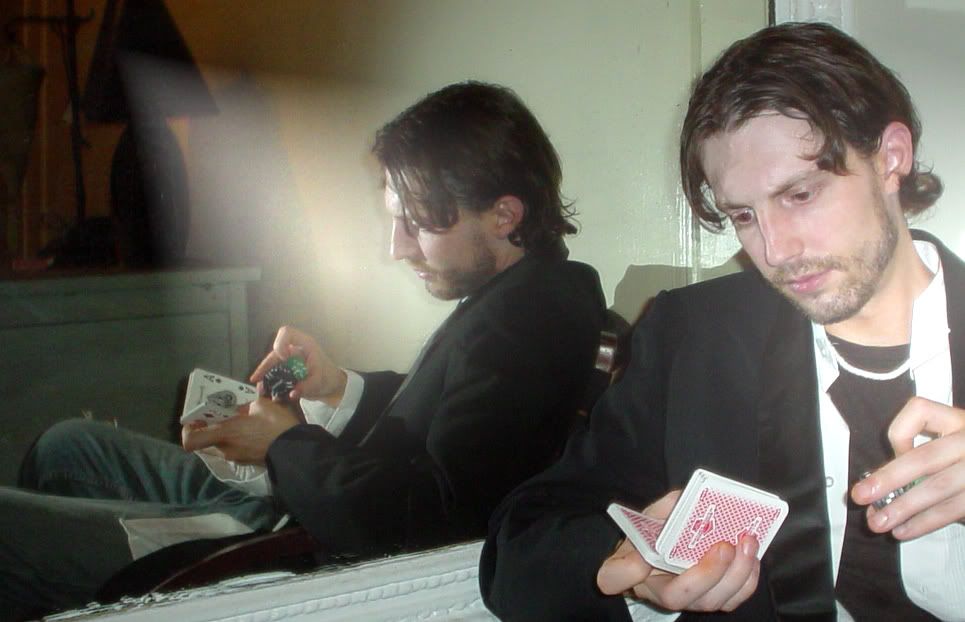 I have always been very hesitant to post clear pictures of my face on this blog, or anywhere online for that matter, but I couldn't resist this one.